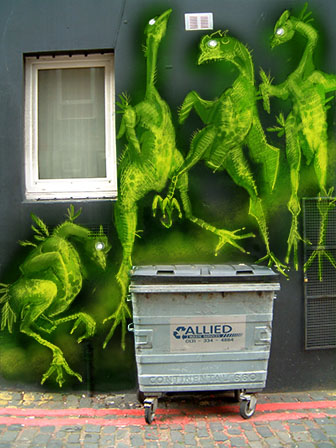 Sammy sees as Sammy does; if he sees it, he does it. There ain't no thinking involved. Like when he saw those spectral chickens running amok outside Chicken Ranch. He just went straight in and started an exorcism, right there in the queue.
Ghostly they were: pucking and kucking, skittering about – just like real chickens, but dead. Must've come from the latest batch of Chicken Ranch tenders, he thinks. Just look at 'em. Nobody can see the poor bastards, and yet they're running round all over. Running through children, running through dogs; a lady with a bag, all swarming with dead chooks. Figure I gotta sort this out. So, he does. Two crossed sporks aught'a keep the dead at bay.
Inside the shop, folk have got the door open. It's a hot-summer's-every-day in Yuma – about 110 – and the aircon is on the blink. Should've gone down the road to Funky Chicken, but there you go. It's a sea of chicken death – hundreds and hundreds of mutilated chickens scrapping about under tables.
A few must be manifesting poltergeist tendencies, as straws, coins and the odd grain of food, flick about, seemingly under their own control, or maybe it's 'just the wind' – that old stalwart of horror movies. But it ain't the wind. Never has he seen a meat joint in more need of a vegan exorcist. Bad enough when it's bad meat. But worse when it's comin' back at ya.
He scatters a few packs of salt. Surreptitiously squirts round some ketchup. Shit, how do you do that surreptitiously? So, he does it big, wide, and generous, squeezing the bottle out into a pentagram on a gingham table top. The last point ends with an empty tomato fart.
The seats are bolted down so he can't clear much of a space for the necessary dancing – alas it's the only exorcism he knows – so starts a squeaky trainer shuffle, right up on the table.
A dad and his kid are eating burgers. Dad is trying not to get the wrapper in along with the pattie, but it keeps springing up like a lick of hair. The little girl is pointing at Sammy and at the chickens which, it seems, like his dancing, and have started to gather round the table.
"Dad, dad, why's that man dancing with chickens?"
"H'mmm, what hon?"
"He's silly!"
Strange thing is, the staff in this joint have seen everything. Nothing phases them, not even a class five intervention with condiments – "That crazy is back on six," they say, as they push round the dustpan on a four-foot stick, the closest they're willing to get to their own product.
The rest of the customers are so starved or so sated on chicken flesh they couldn't care less. Sammy goes in for the final shimmy turn and finds there ain't no table behind him no more. End of the road. He slips off and falls flat on his back.
Just what the chickens have been waiting for. They're on him, swarming like sunshiny mirages in front of his face. Their attack is accompanied by a sinister hissing sound, hooked claws and red eyes. Of course, they're insubstantial and most just go on through, but it's filling the room with a cold chill around knee height, and it doesn't feel good. There's a vibe; a bad vibe.
People stop eating the burgers and let them flop on the table. It's just too depressing to eat this shit right now. And hey, who's this crazy guy doing the horizontal rumba on the floor?
Wounds are opening on his hands and face. If the chickens are mean enough, and mean it enough, they sort of peck through the veil. He's got numerous nicks on his legs. Jesus God, he thinks, I'm about to check out of this crazy farmyard.
One hand, two hands on the stack of trays, and they scatter like leaves. Finally gets a hold on the bin in the cabinet beneath. He staggers to his feet and hoists the thing through the window. Crash! That wakes everyone up.
Three minutes later and Sammy's got the boys in blue to play with. He's covered in blood and ketchup, and to be fair, he's raving like a lunatic, so they don't take him gentle. But he's still trying to tell them about the fryers and what's lifting itself out of there on cooked tendons and grilled bone, headless and determined – the chickens of the dead.